Arrow Exterminators, Parent Company of Hughes Exterminators Announces the Strategic Acquisition of Advantage Pest Control of FL in Pinellas Park, FL
Merger Strengthens Presence in expansive Tampa Bay area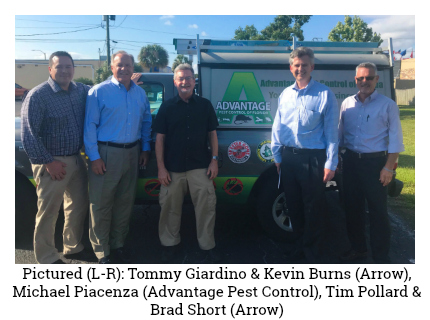 Atlanta-based Arrow Exterminators is pleased to announce the merger and acquisition of Advantage Pest Control of FL LLC, a full-service company focusing on residential and commercial pest and termite control located in Pinellas Park, Florida, the center of the St. Peteresburg/Clearwater peninsula. This transaction further strengthens Arrow's presence in Pinellas County and the extensive Tampa Bay area and allows Arrow to grow and reach more residential and commercial customers with a full line of services.
"We are so delighted to welcome the customers and team members of Advantage Pest to the Arrow family," said Emily Thomas Kendrick, President and Chief Executive Officer of Arrow Exterminators. "Advantage Pest's commitment to their customers and passion for customer service as well as their full service offerings is not only a perfect fit, but a strategic one as well." Kendrick went on to say, "Advantage Pest will ultimately operate as Hughes Exterminators and gives us a total of 25 service centers throughout the state of Florida."
"When looking for a home for our business, we were looking for a company that provides world-class customer service and was obsessed about how customers and employees are treated. We found that in Arrow Exterminators" said owner Michael Piacenza. "We have always believed that a business that values family also values customers. We are proud to join a fellow family-owned and operated company and be a part of the Arrow family, "We wanted to give our employees with great opportunities for growth and also be with a company which offers our long-time customers an expanded range of services. All of my employees will continue their careers with Arrow Exterminators" added Piacenza.
"Michael and his team has proudly served the Tampa Bay area and is very well regarded in the state of Florida. We are proud to have this strong, experienced team of professionals join the Arrow family. We continuously look to merge with high quality companies who share our goals, principles and culture and we believe we found the perfect fit with Advantage Pest," stated Tim Pollard, Senior Executive Vice President and Chief Operating Officer.